Instantly calculate

break-even points

and

risk-reward ratio

Payoff charts

of entire position and individual legs
Condors, butterflies, straddles, vertical spreads, covered calls…

54 strategies

– learn more about those you know, discover new ones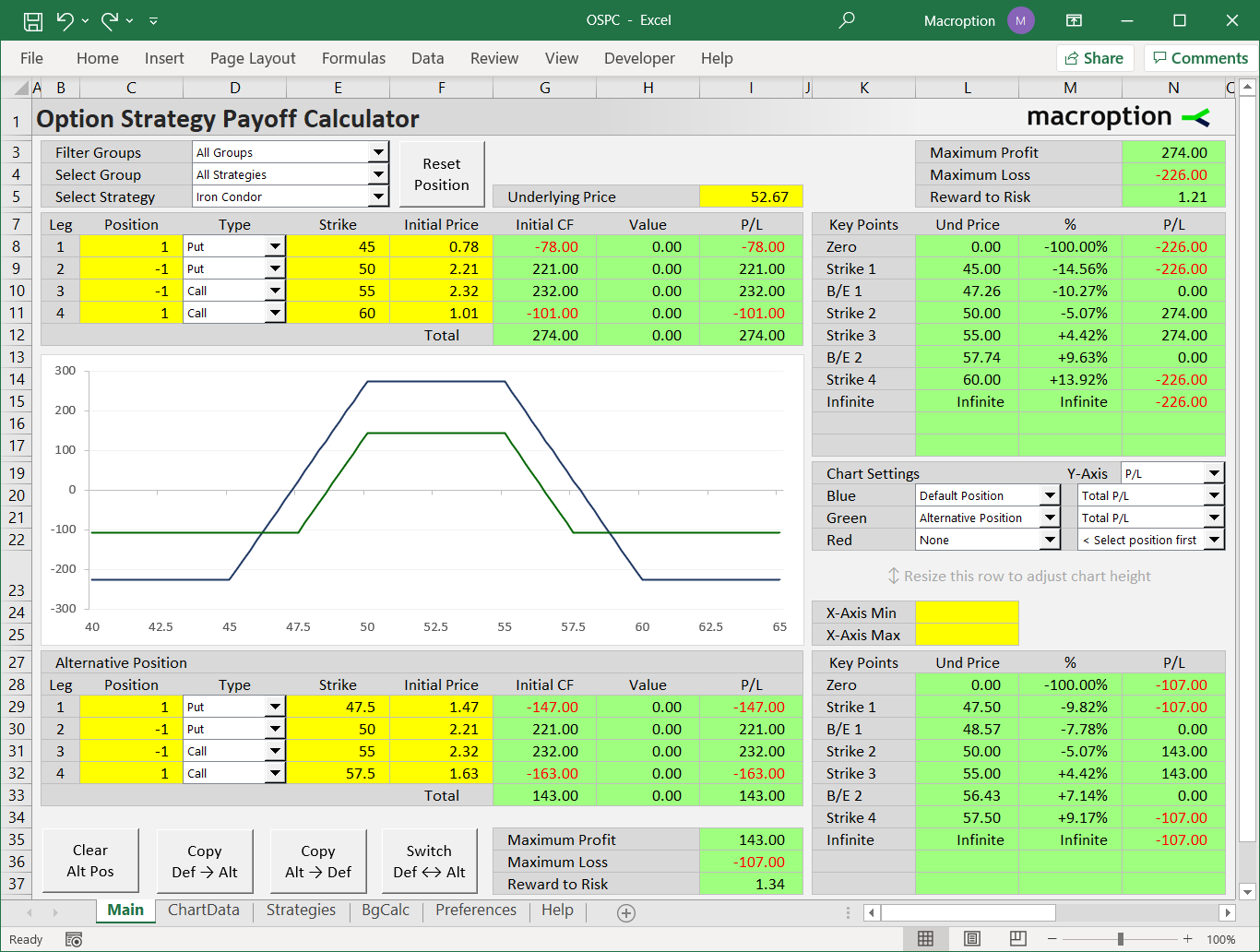 Works in all versions of Excel from Excel 97 to the latest, including Excel for Mac (contact me for new version with open document format support – Google Sheets, Libre Office etc.)
Simple navigation, easy to use even with limited Excel or finance skills
Detailed user guide if you need to know more
How It Works & Screenshots
Select option strategy in the dropdown box (see list of all 54 strategies included):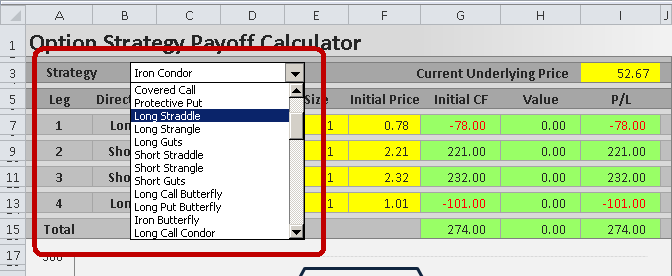 If you are analyzing a specific trade, you can enter strikes, position sizes and initial prices in the yellow cells. If you don't have specific prices in mind and just want to explore a new strategy, example strikes and prices will be loaded automatically.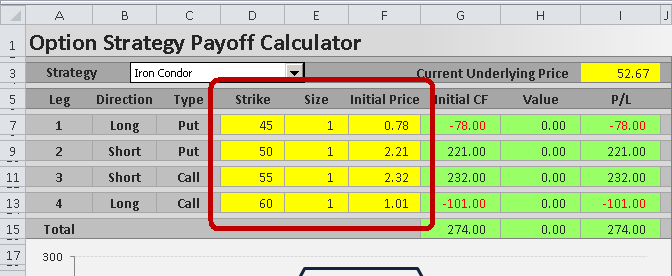 You can also set a specific underlying price and see values and profit or loss for individual options and the entire position at that price:

In the top right corner you can see maximum profit, maximum loss and risk-reward ratio. This is very useful for evaluating potential trades. You can also see break-even points and profit or loss at each strike: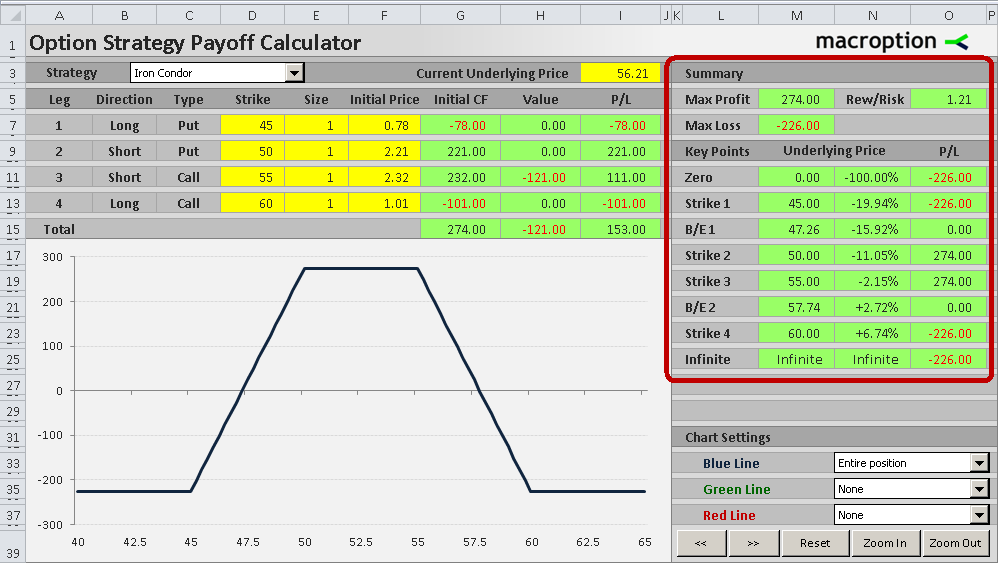 By default the chart shows aggregate profit or loss for the entire position. You can also display individual legs: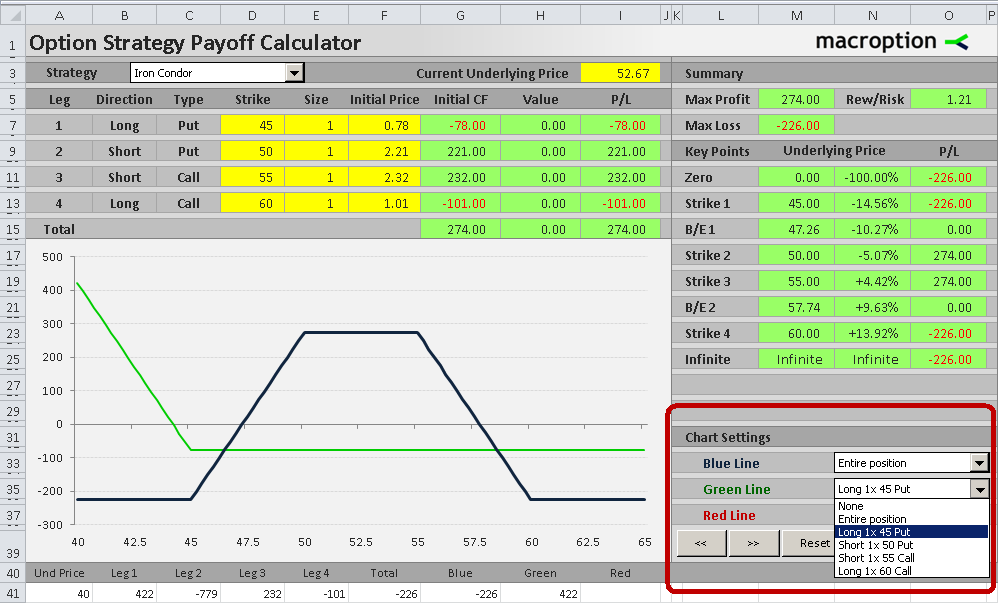 To explore a particular price area in more detail, you can easily adjust the chart's scale by clicking on the buttons: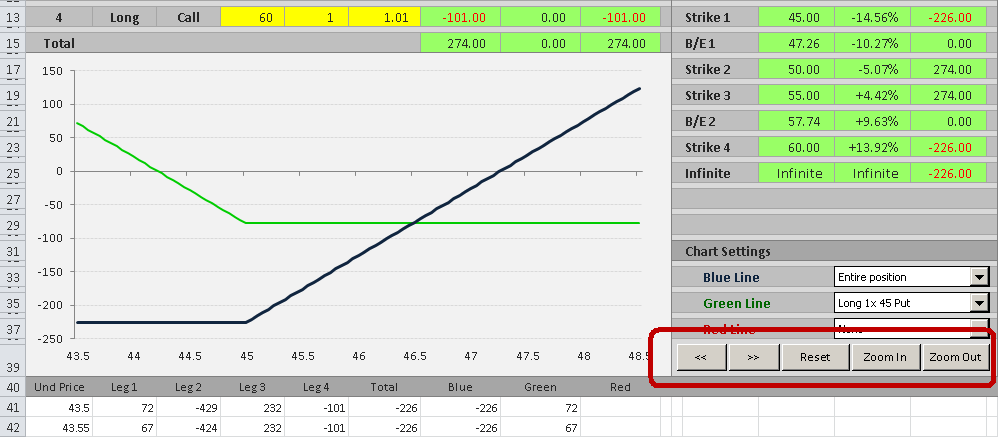 It's very straightforward – yellow cells for user input, green cells for results. Detailed instructions are available in the user guide (in pdf), which you will also get.

List of Option Strategies
The Basics
Long Stock
Short Stock
Long Call
Short Call
Long Put
Short Put
Covered Call
Protective Put
Straddles, Strangles, Guts
Long Straddle
Long Strangle
Long Guts
Short Straddle
Short Strangle
Short Guts
Butterflies and Condors
Long Call Butterfly
Long Put Butterfly
Long Iron Butterfly
Long Call Condor
Long Put Condor
Long Iron Condor
Short Call Butterfly
Short Put Butterfly
Short Iron Butterfly
Short Call Condor
Short Put Condor
Short Iron Condor
Vertical Spreads, Ladders, Ratio Spreads
Bull Call Spread
Bear Put Spread
Bear Call Spread
Bull Put Spread
Bull Call Ladder
Bull Put Ladder
Bear Call Ladder
Bear Put Ladder
Strip
Strap
Covered Short Straddle
Covered Short Strangle
Ratio Call Backspread
Ratio Put Backspread
Ratio Call Spread
Ratio Put Spread
Collar
Synthetics and Others
Synthetic Call
Synthetic Put
Synthetic Long Stock
Synthetic Short Stock
Synthetic Long Straddle w Calls
Synthetic Long Straddle w Puts
Synthetic Short Straddle w Calls
Synthetic Short Straddle w Puts
Long Combo
Short Combo
Long Box
It is easy to add your own strategy in a designated "Strategy Data" sheet.

Frequently Asked Questions
Is it a one-time payment or monthly/recurring?
One-time payment, yours forever.
Does it work in my version of Excel?
The calculator is a standard xlsm file and works in all versions of Excel from Excel 97 to the latest, also including Office 365 and Excel for Mac. For older versions you may need to use a different version of the calculator, which is also included.
Does it work in OpenOffice / LibreOffice / Apple Numbers / other spreadsheet software?
It may work in some, but unfortunately I can't guarantee it and can't provide support for software other than Microsoft Excel. Generally you need your software to support Excel formulas and macros.
Does it work for options in my country?
Yes. The calculator does not depend on a particular country or currency – you just need to set the correct contract multiplier in a designated cell. Since 2016, the calculator has been used by customers all over the world, including the US, Europe, Australia, India, China, Japan, Russia, Brazil, and many other countries.
How do I pay? Is it secure?
You can pay by credit/debit card or PayPal. All payments are processed by PayPal, but you don't need a PayPal account to check out when paying with a card. Contact me for alternative ways to pay (wire transfer, bitcoin).
I have other questions / need more information.
Please contact me.

Related Calculators – Often Bought Together
Option Strategy Simulator – Simulates option strategies not only at expiration, but at any time, including intraday. Works with volatility, Greeks and more advanced option concepts.