This page is a summary of various resources and other pages on volatility, including topics such as historical volatility, implied volatility, volatility indices, volatility calculation, practical use, and volatility trading. Follow the links to see more details about individual topics.
Historical Volatility
Historical volatility is the volatility that has been observed in the market. It is calculated from historical market data.
Implied Volatility
Implied volatility is the volatility that is priced in option prices. It is derived from option prices, typically using an option pricing model.
Implied volatility is closely related to historical volatility, but the two can have hugely different values for the same security sometimes. While historical volatility is something that has already happened (and therefore it is certain and fully known), implied volatility reflects market's expectations towards the future. Implied volatility is often different even on different options on the same underlying security.
Volatility Indices and Derivatives
There has been a growing universe of volatility indices on various assets. The best known of the is the VIX (CBOE Volatility Index), which measures 30-day implied volatility of S&P500 options. Similar volatility indices exist for other equity indices, stocks, ETFs, and other securities around the world. Futures and options are available on some of the volatility indices.
Frequently Asked Questions about Volatility
The following are commonly asked questions about the basic properties of volatility.
Volatility Calculation and Mathematical Meaning
Although there are different methods of its calculation and interpretation, volatility is commonly understood as standard deviation of returns. It is usually expressed in percent per annum. When transforming volatility to different time units, the square root of the time unit ratio must be used.
Volatility Value Range
Volatility can theoretically reach any value from zero to positive infinite. Most securities trading in real world have volatility between 0 and 100%, although volatility above 100% is far from uncommon. Zero volatility means that a security has constant price (doesn't move at all).
Using Volatility
While some people (including some academics and financial professionals) consider volatility an asset class, others don't. It is believed that adding long volatility can improve risk adjusted return of a portfolio under some circumstances. Volatility futures, options, and exchange traded products (especially those on the VIX) have become popular also for short-term trading.
Trading Volatility
Although volatility trading can be very rewarding, it is far from easy. As a trading vehicle, volatility has many specifics, especially a return distribution that is unlike any other asset class. While it is commonly believed that volatility is mean reverting (which it generally is), it is not necessarily true on all time horizons.
This is the main page of Macroption coverage of the VIX (CBOE Volatility Index). Below you can find links to various pages providing information and resources for various things regarding the VIX, its futures, options, and ETNs.
Basic Information about the VIX Index
What Is VIX? – this page answers this and several other frequently asked questions about the VIX. If you are totally unfamiliar with the VIX and volatility indices in general, start here.
VIX Calculation – this page is a bit more advanced – it explains the calculation of the VIX index step-by-step. It focuses on the logic of the calculation rather than the exact mathematics (for those who also want the formulas, there is a link to the original CBOE VIX White Paper).
VIX Chart – this page contains a few charts of the VIX index, in case you need a basic idea of its range and behaviour. I don't update it very frequently, but there are also links to websites where you can see the latest chart.
VIX Index Values and Relationship to S&P500
VIX All-Time High and VIX All-Time Low – overview of highest and lowest VIX values recorded in history – the highest/lowest close, the highest/lowest intraday value, number of days with VIX below 10 or above 80, long-term historical chart, and more statistics from VIX history
VIX-SPX Correlation – correlation of daily moves in VIX and S&P500 overall and in individual years, chart of 252-day trailing VIX-SPX correlation, relationship between average VIX value and VIX-SPX correlation
VIX and S&P500 in the Same Direction – statistics on the number of days when VIX moves in the same direction as S&P500 – up days, down days, and what happens on the next day
Trading the VIX
You may have already heard that the VIX index is quite specific as a trading vehicle. In fact, the index itself is not directly tradable (see explanation why), but you can trade it indirectly using futures, options, and exchange traded products (see details below).
Trading the VIX – this page summarizes the reasons why you may want to trade the VIX and the many specifics of doing so.
VIX Futures, Options, and Term Structure
VIX Futures – the main page and basic information about VIX futures, which includes contract specifications such as multiplier, tick size, contract months available, expiration and settlement, and trading hours, as well as various links to other pages and resources concerning VIX futures.
VIX Futures Curve – this page explains what the VIX futures curve is, how it looks, what contango and backwardation mean, and how they occur on the VIX.
VIX Term Structure – this page explains the VIX Term Structure, which is not the same as VIX futures curve as many people believe.
VIX Options – the main page and basic information about VIX options, which includes contract specifications, available strikes, exercising them, expiration and settlement, and other resources.
VIX Expiration Calendar (Futures & Options) – VIX expiration calendar for 2013 and 2014 and full history of VIX expiration dates since start of VIX futures trading (2004)
VIX and VIX Derivatives Historical Data
VIX Historical Data – this page provides links to CBOE pages where you can download the VIX index and VIX futures daily historical data for free. It also includes a few notes concerning navigation on the download pages and the differences between the individual files and symbols.
VIX Options Historical Data – basic instructions and links for getting historical data for VIX options
VIX COT (Commitment of Traders) Reports – the CFTC COT reports for VIX futures: where and how to get them
VIX Exchange Traded Products
VIX ETF & ETN List – lists of VIX exchange traded products that provide various kinds of exposures (long, 2x long, short, spreads) to various parts of the VIX futures curve; several lists arranged by exposure, by provider, list of most liquid VIX ETFs/ETNs, list of VIX ETFs/ETNs with available options, and list of all VIX ETFs/ETNs sorted by ticker symbol in alphabetical order, including discontinued products
VIX ETF & ETN Lists
On this page you can find an overview of VIX ETFs (exchange traded funds) and ETNs (exchange traded notes). Click on the symbol links to see more details about trading exposure and links to official website, factsheet, prospectus, quotes, and charts for individual products. For convenience, the ETFs/ETNs are arranged in several lists here:
This is a summary of the very basic terms and concepts of options, including calls and puts, option premium, intrinsic value, time value, implied volatility, and the Greeks. You can follow the links to get a more detailed explanation with examples.
Definition and Basic Logic of Options
Option represents a right, but not obligation, so it is generally better to own options than not own options.
Options are derivative securities and every option is derived from an underlying asset or security.
There are options on various types of underlying assets including stocks, ETFs, indexes, currencies, bonds, interest rates, futures, swaps, and many more.
Call options represent the right to buy the underlying asset.
Put options represent the right to sell the underlying asset.
Trading and Exercising Options
The owner of an option can decide to exercise it or not.
Every option has limited life and after that time period it expires.
American options can be exercised at any time before or at expiration. European options can be exercised only at expiration.
Read more: Exercising options and expiration
Some options trade on option exchanges and their contracts are standardized. Options on US stocks traded on the CBOE (Chicago Board Options Exchange) are an example.
Other options trade OTC (over-the-counter), without an exchange.
Strike Price of an Option
Every option has a fixed strike price, which is the price that applies to the buying or selling of the underlying asset when the option's owner exercises the option.
Market Price and Intrinsic Value of Options
Market price of an option (or market value or option premium) consists of intrinsic value and time value. Market price is something totally different from strike price.
Intrinsic value is the difference between the strike price and current market price of the underlying.
Intrinsic value can't be negative.
When the underlying asset's price grows, intrinsic value of a call option goes up as well.
Intrinsic value of put options moves inversely to the underlying's price and to intrinsic value of call options. When the underlying asset's price grows, intrinsic value of a put option falls.
Like with a call, intrinsic value of a put option can't be negative.
In the Money, At the Money, Out of the Money
Options with intrinsic value are said to be in the money.
Options whose strike price is equal or very close to the current market price of the underlying asset are said to be at the money.
Other options, which have no intrinsic value, are said to be out of the money.
Call options are in the money when their strike price is lower than the current market price of the underlying asset.
Put options are in the money when their strike price is higher than the current market price of the underlying asset.
Time Value of Options and Time Decay
Time value of an option depends on many factors, primarily on the option's moneyness, time left to expiration, and volatility.
Read more: Time value of in the money call options, in the money put options, and out of the money options
The more time is left to expiration, the higher the time value (other things being equal).
The decrease in options' time value with passing time is called time decay.
Historical and Implied Volatility
The higher the volatility, the higher the time value (other things being equal).
We distinguish historical and implied volatility.
Here you can find more information and resources on volatility.
Historical volatility is volatility observed on the underlying asset's price in the past. We can calculate historical volatility using historical data.
Implied volatility is volatility of the underlying asset's price expected by market participants and reflected in option prices. We can calculate implied volatility using an option's market price and an option pricing model (we need to set the other parameters in the model).
An example of option pricing models is the Black-Scholes Option Pricing Model.
Different options on the same underlying asset and same expiration can have different implied volatility.
Delta, Gamma, Theta, and Vega
Options' exposures to external factors can be measured by the so called Greeks.
The most important Greeks are delta, gamma, theta, and vega.
Delta measures exposure of an option' market price to changes in market price of the underlying asset.
Read more: Measuring directional exposure with delta
Gamma measures exposure of an option's delta to changes in market price of the underlying asset.
Theta measures exposure of an option's market price to passing time.
Vega measures exposure of an option's market price to volatility.
The following is a basic explanation of commonly used summary statistics (including mean, median, variance, standard deviation, skewness, kurtosis, and percentiles), which you can calculate in Excel using the Descriptive Statistics Calculator. Follow the links for more details concerning calculation and interpretation of individual measures.
Population or Sample Size (N)
The size of the data set (sample or population) is simply how many observations (values) you use to calculate all the summary statistics. It is usually marked as N (or n). In Excel you can easily get N using the COUNT function. In the Descriptive Statistics Calculator, N is in cell D8.
Arithmetic Mean
Arithmetic mean is the most commonly known and used of all the summary statistics. It is the arithmetic average of all values in a data set. Arithmetic average is calculated as the sum of all values divided by the data set size (N). In Excel, you get arithmetic mean using the AVERAGE function. It is cell D9 in the calculator.
The simplicity of its calculation and interpretation is the main advantage of artihmetic mean. However, there are also drawbacks. In some cases (for example when there are extreme values in the data set), other measures tell a better story about the data (one of them is median – see below).
More about arithmetic average:
Median
Median often complements arithmetic mean as a measure of central tendency (average or most "typical" value) of a data set. Median is the value which is greater than half of all the other values and smallar than the other half. If you sorted all the values in a data set from smallest to greatest, median would be ranked in the middle. In Excel, the function is MEDIAN. The cell in the Descriptive Statistics Calculatoris is D10.
You can see more detailed explanation of median and its calculation here:
Variance & Standard Deviation
Variance is a measure of dispersion or variability in the data. It is defined as the average squared deviation from the mean and therefore it's always non-negative. Low variance is interpreted as little variability in the data set (the values tend to be very similar), while high variance indicates a very diverse data set with big differences in individual values.
Variance vs. Standard Deviation: Units and Use
Standard deviation is a more common measure of dispersion (or volatility). It is directly derived from variance – in fact standard deviation is just a square root of variance. Its advantage and the main reason why standard deviation is used more frequently than variance is that it is measured in the same units as the underlying data, while variance is measured in the units squared.
For example, standard deviation of a set of prices is measured in dollars, while variance is measured in dollars squared. Standard deviation of investment returns (historical volatility) is measured in percent, while variance would be measured in percent squared.
Variance is still very useful for various tests and analyses (e.g. Analysis of Variance – ANOVA) or as an input for calculation of other measures or indices. With variance, you don't need to be bothered with the square root as with standard deviation.
Variance & Standard Deviation Calculation
The exact calculation of variance and standard deviation is slightly different depending on the data set being a sample or the entire population. The respective Excel functions are VAR.S, VAR.P, STDEV.S, and STDEV.P. Variance is in cell D11 and standard deviation in D12 in the Descriptive Statistics Calculator. You can set whether your data set is sample or population in the combo in cell D6.
Here you can see more detailed explanation of variance and standard deviation and their calculation:
Skewness
Skewness measures the symmetry of the distribution – most importantly it compares relative frequency of extreme low (left tail) and extreme high (right tail) values. Normal distribution, which is perfectly symmetric, has skewness of zero. Positive skewness means that extremely high values are relatively more common (right tail is fat), while negative skewness means that extremely low values are more common (left tail is fat). In finance and investing (and even more so in options pricing and trading), knowing skewness of return distributions is very useful, as it may indicate frequency or probability of huge gains and (more importantly) huge losses.
The calculation of skewness may look complicated at first, but as soon as you get the underlying logic, it is quite straightforward. It is not unlike calculating variance and standard deviation. Skewness too has slightly different formula for population and sample. Here you can see a detailed explanation and derivation of skewness formula.
In Excel, you can calculate sample skewness using the built-in SKEW function. There is no built-in function for population skewness, but you can easily calculate it through a small adjustment of the SKEW function (see how). In the calculator skewness is in the cell D13.
Kurtosis
Kurtosis measures the peakedness of the distribution of the values in a data set. High kurtosis means that there are many values very close the the mean and (more importantly) many values very far from it (if you drew a chart of the distribution, there would be a sharp peak in the middle and fat tails). Conversely, low kurtosis means that most values are neither too close, nor too far from the mean.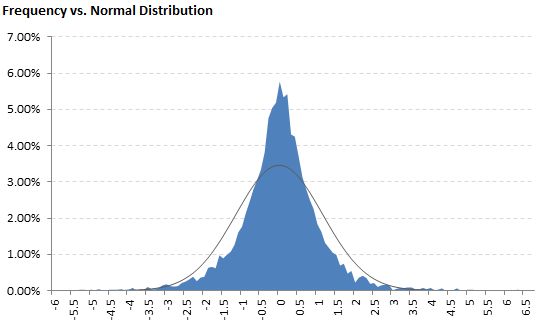 Kurtosis is often quoted in the form of excess kurtosis, which equals kurtosis less 3. The lowest possible value of excess kurtosis is negative 2; the highest is infinite. Normal distribution has excess kurtosis equal to zero (that's why excess kurtosis is used rather than the "basic" kurtosis). As with skewness, there is a little difference in calculation of population and sample kurtosis.
See detailed explanation of formulas for sample and population kurtosis and excess kurtosis.
In Excel, the function for sample excess kurtosis is KURT. There is no built-in Excel function for population kurtosis (you need to calculate it manually by adjusting from KURT – see how to do it here). You can calculate either population or sample excess kurtosis in the Descriptive Statistics Calculator in cell D14.
Percentiles
Percentiles are used to describe the structure of the data in greater detail. They use the same logic as median (above on this page), which in fact is the 50th percentile, as there are 50% values in a data set greater and 50% values smaller than median. Analogically, for 5th percentile there are 95% values greater and 5% smaller, for 99% percentile there are 1% values greater and 99% smaller – and for Nth percentile there are 1-N% values greater and N% values smaller.
The Excel function for percentiles (exclusive or inclusive) is PERCENTILE.EXC and PERCENTILE.INC. In the Descriptive Statistics Calculator, percentiles are in cells C18-C28.
Minimum and Maximum Value
The extreme values – minimum and maximum provide a very useful information that the other summary statistics don't. In many cases (and especially in finance and investing), it is very useful to know the actual smallest and largest value (e.g. portfolio return in a period). Nevertheless, if your data set is only a sample (e.g. past returns), you should still be prepared for the population (which also includes unknown future returns) to contain even more extreme values.
In Excel, the functions are MIN and MAX. In the Descriptive Statistics Calculator, maximum value is at the top of the percentiles table (cell C17) and mimimum at the bottom (cell C29).
Download the Calculator
You can find screenshots and download the calculator and the pdf guide here.