This page was published on the old Macroption blog on 27 March 2013 and may be outdated.
The macro picture in the last weeks has been mostly negative news and concerns from Europe and quite positive news from the US. European equities have also significantly underperformed the US equities, which are near historic highs.
One statistic that illustrates the difference between current market sentiments in Europe and the US very well is the difference between the VIX and its European counterpart, the VSTOXX index (implied volatility index of EuroStoxx 50). Yesterday the VIX closed at 12.77 and the VSTOXX (which closes a few hours earlier) at 20.88 – a difference over 8 points and VSTOXX/VIX ratio of 1.64.
Below you can see how the ratio and the point difference between VSTOXX and VIX developed since 1999: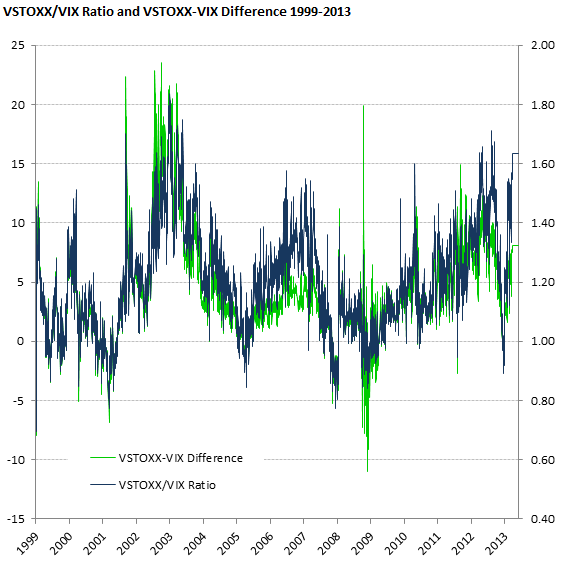 We are now near historic highs on the ratio. The current difference of 8 points alone is far from historic highs of course (we saw 20 or more a couple of times). But a difference of 8 points is extreme if you take the current value of VIX into consideration (8 point difference between 20 and 12 is not like an 8 point difference between 50 and 42).
The scatter plots below illustrate how the VSTOXX-VIX difference and ratio relate to VIX closing value and to one another. The latest figures (26 March 2013) are marked red: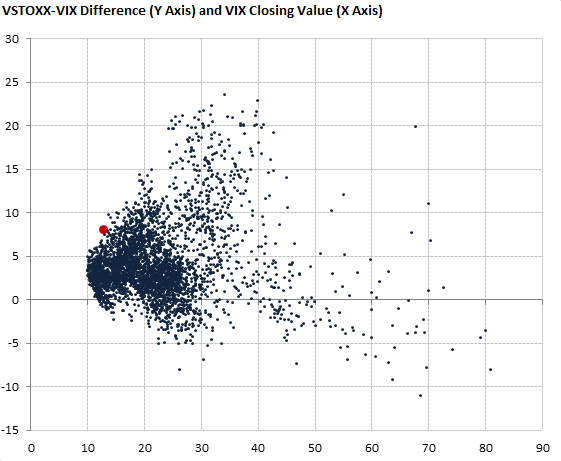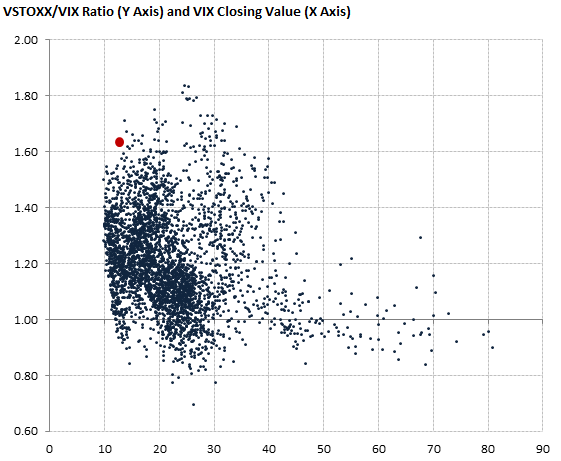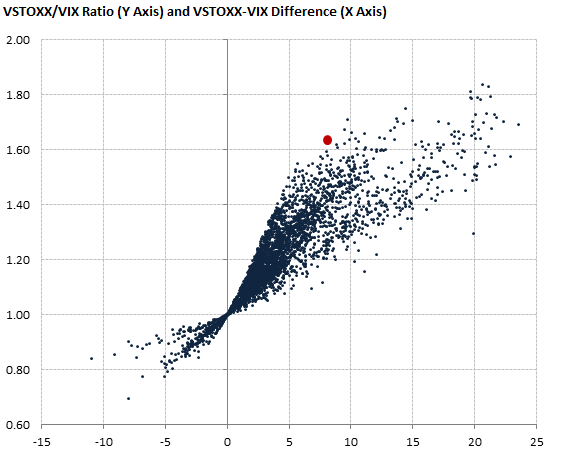 The current difference between VSTOXX and VIX is extremely high considering the relatively low VIX. European option market participants are much more concerned about the near future than American option market participants. If there is something to crash the markets, it is more likely to come from Europe than from the US, so the markets think.
There have been 29 days in history when the VSTOXX/VIX ratio was over 1.50 with VIX close below 15. They are listed in the table below. You can see that it often occurs for a couple of days in series.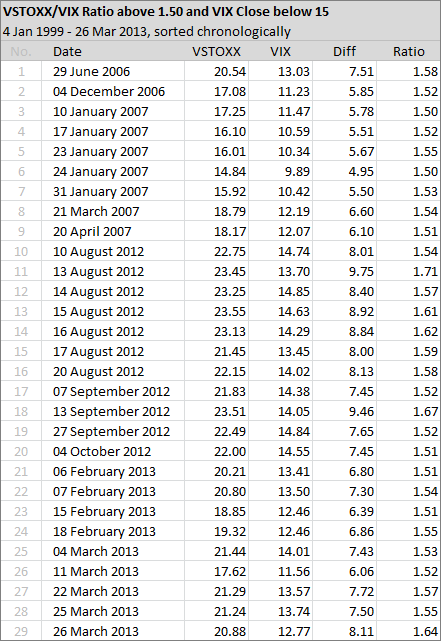 One thing to keep in mind before going long VIX and short VSTOXX is that these indices measure implied volatility of short-term options (constant 30-day maturity), but ignore longer term options. In other words, although it is virtually sure that the difference will be smaller again sooner or later, it might be later and in that case the trade would lose money. This is also reflected in the term structure of VSTOXX and VIX derivatives (for example, the difference between the long ends of both futures curves is less than 5 points).
Another final note: You can see from all the charts above that historically VSTOXX has been above VIX most of the time. The average VSTOXX-VIX difference has been +4.14 points and the average VSTOXX/VIX ratio has been 1.20.