S&P500 Retreats from All-Time High, VIX above 14
All-Time Highs on Equity Indices
On Tuesday S&P500 closed above 1570 for the first time in history. It was trading as high as 1573.66 on Tuesday morning, but it has not yet surpassed the all-time intraday high (1576.09) from 2007. The Dow Jones Industrial Average improved its all-time closing and intraday records on multiple occasions during the last weeks.
Yesterday equity markets corrected on weak macro data and concerns about North Korea. S&P500 dropped more than 1% for the first time since 25 February. Company earnings season starts next week, with Alcoa due to release 1Q results on Monday after close. This week the market will be looking at Bank of England and particularly ECB meetings today and US jobs data on Friday.
VIX Index vs. Realized Volatility
The VIX has been trading in a range between 12.50 and 14 for most of the last 2 weeks, with occasional spikes above 14. One of such spikes occurred yesterday when the VIX got as high as 14.66 for a minute before closing at 14.21.
It seems that many market participants consider the current levels of VIX low enough to provide a good opportunity to hedge long equity positions or speculate on volatility increase, given the technicals on long-term charts (tripple high on S&P500) and fundamental concerns (upcoming earnings season, macro, Europe, North Korea). Nevertheless, the VIX at 14 represents an above average premium of 5-6 points above the last month's realized volatility. 21-day historical volatility was 8.69% p.a. on yesterday's close; 63-day volatility at 10.40%; 252-day volatility at 12.87% (source: Historical Volatility Calculator with Yahoo Finance data).
VIX Futures Curve vs. One Year Ago
VIX futures curve remains in sharp contango with the short end around 14-15 and the long end just above 19. Yesterday after the drop in equities and increase in spot VIX the curve ended almost exactly the same as on Friday, except the front month which went a bit higher with the spot VIX. April VIX futures and options expire in two weeks.
Below you can see the VIX futures curve chart that I published here one year ago, as a reminder about the striking decrease on its long end that we have seen in the last 12 months. At the beginning of April 2012 spot VIX and front month futures were not much higher than today, but the long end of the curve was trading in mid 20's.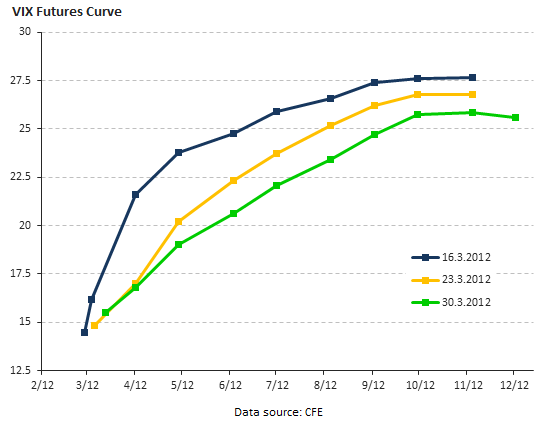 VVIX Reconnects with VIX
The VVIX index, which measures implied volatility of VIX options, was disconnected from the VIX a bit in the last weeks (normally the two indices tend to move in the same direction most of the time). Yesterday, with a bigger directional move in equity indices, both VIX and VVIX rose sharply.
…